In October 2022, Medical Graphics UK and GVS' teamed up to provide a range of Lung Function Testing filters for the UK market.
Therefore, this year marks our first joint visit to the ARTP conference, and as a way of celebrating the launch of the GVS Spiroguard filter, with proven filtration efficiency of 99,99999% up to 0,027 micron, into the UK market, Medical Graphics gave away a prize worth over £1,000 to whoever could guess the quantity of spirogaurd filters inside a Medical Graphics Platinum Elite Body Box.
Over 30+ of the UK's leading department staff for lung function testing participated in the competition. As a reward all the contestants who took part were each sent a 20% discount code for all filter types. The winning guess, which was only three away from the actual total of 1,143 filters, was given by Joanna Purvis, based at George Elliot Hospital, who correctly guessed a volume of 1,140.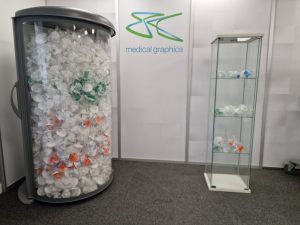 Medical Graphics UK are very much looking forward to continuing their relationship with GVS and all future events that may include together. For all enquiries regarding GVS spirogaurds, please contact admin@medicalgraphicsuk.com for further information and prices.